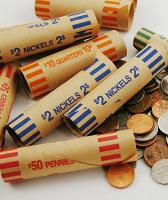 Today we had to pick 2 questions.
What is the value of each type of coin?
Well the penny is worth 1 cent, the nickel is worth 5 cents, the dime is worth 10 cents and the quarters is worth 25 cent


How much money was in the jar?
Well Mr. Harbeck told us it was $100.




Today we had to do the combination thing.
So this is what i did. I put 60 rolls of 1 cents
10 rolls of 5 cents, 2 rolls of 10 cents, and 1 roll for 25 cent, 1 $ and $2.

How full is the jar if it would be Usa dollar?
Well it might be the same thing.
3/4.